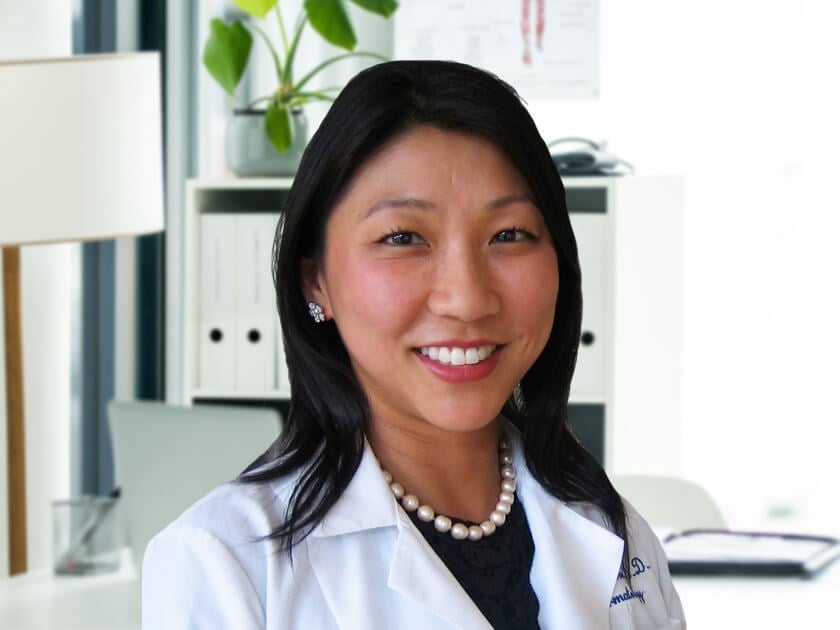 Dr. Jasmine Yun is a board-certified dermatologist who earned her undergraduate degree in biology with honors from UCLA. After earning her Bachelor of Science degree, she received a joint MD/MBA from the UCLA School of Medicine and the Anderson School of Management at UCLA. She also had the pleasure of serving as chief dermatology resident at MLK-Harbor and Harbor-UCLA. While completing her subspecialty dermatopathology fellowship at the Ackerman Academy of Dermatopathology in New York, she worked closely with Dr. A. Bernard Ackerman, a true pioneer in the field of microscopic diagnosis of skin cancer and disease. Dr. Yun serves as a Clinical Associate Professor of Dermatology at USC Keck School of Medicine where she has devoted much time educating resident physicians and also has spent time participating in medical missions in developing countries, such as Afghanistan and Mexico. As Chair of the Fellow In-Service Assessment Committee for the American Society of Dermatopathology, Dr. Yun prepares the national exams for dermatopathology fellows in training. Not only has she won multiple teaching awards, but she has published a variety of peer-reviewed articles and written chapters for dermatology textbooks with a focus on skin of color. She has been featured in magazines such as Glamour and Travel + Leisure. When she is not working, Dr. Yun enjoys traveling with her husband, son, and twin daughters.
BOARD CERTIFICATIONS AND Societies
Dr. Yun is board certified by the:
American Board of Dermatology
American Board of Pathology
Dr. Yun is proud to be a member of the following societies:
American Society of Dermatopathology
Chair, Fellow In-Service Assessment Committee for the American Society of Dermatopathology
American Academy of Dermatology
Women's Dermatologic Society
Los Angeles Metropolitan Dermatological Society
Specialties and Expertise
Dr. Yun is proud to be skilled in all areas of dermatology, particularly in cosmetic procedures, like BOTOX®, fillers, and lasers, as well as in diagnosing (dermatopathology) and treating skin conditions in adults and children.
Reviews
"I've seen dermatologists on and off, mainly for acne in Irvine. Now that I moved to LA, I did a lot of research to find a new dermatologist that I could trust and develop a relationship with. I finally landed on this office from seeing great photos and reviews on Yelp.I was a little said to not be able to see Jasmine, but I think my issue was small enough to give their PA Charlotte a chance since I was told she worked with Dr. Yun for several years. And I don't mind giving other doctors a chance. The staff was great and very kind and professional. And the decor is modern and cute as well.Charlotte was friendly and professional. She immediately figured out what was going on and knew exactly what to do. I think I was in and out in 10 minutes. I was very happy with my visit. And I recently had a follow up visit, and it was also quick and painless as well. I'm confident that my issue will be solved and gone soon. I love that there is a parking lot even if it's small. My costs was $95 per visit, and I think that's a very fair price for their expertise and service."
C.L.
Yelp
"I was having a prolonged reaction to something and needed to see a dermatologist ASAP. I looked through tons of reviews for various places and had a hell of a time getting in anywhere. I finally came across Van Dyke & Yun Dermatology and I'm so glad I did. I was able to get an appointment within the week. I saw Dr. Yun's PA and she was attentive, knowledgeable, and friendly. The staff there was welcoming and friendly. I was in and out pretty quickly with some advice to help my reaction, which worked. Would definitely recommend."
L.S.
Yelp
"Went in to see Dr. Yun for the second time and she was absolutely amazing. Her demeanor and tone towards you makes you feel really comfortable and I'm glad I've found her here on yelp. Extremely satisfied with the level of service i received at this place and will be sure to return in the future."
A.K.
Yelp
"I was referred to Dr Yun when her office was near Woodland Hills several years ago. I travel from Ojai to Studio City to maintain my relationship with Dr Yun now as I find her to be the kindest, most talented dermatologist I've been lucky enough to find. I'm 63, I've had a few! She is patient and kind from skin cancer to micro needling, never upselling, yet keeping me informed always of new products. The staff is very efficient and courteous and runs the office impeccably. I can't imagine being in anyone else's hands for my dermatology needs. Do not hesitate to see Dr Yun. Seriously!"
L.M.
Google
"I don't really ever go to the dermatologist (knock on wood) but I had to recently and gave this office a chance and the experience was soooooo wonderful. The front desk assistant was amazingly nice. The process was fast, nobody wasted my time. I saw PA Charlotte and she gave me a few options for what to do with the issue I had and I appreciate that!!! She took my concerns seriously. Last dermatologist I saw was in Encino and she was critical and had a bad bedside manners. This place felt cozy, cute and inviting."
C.K.
Yelp