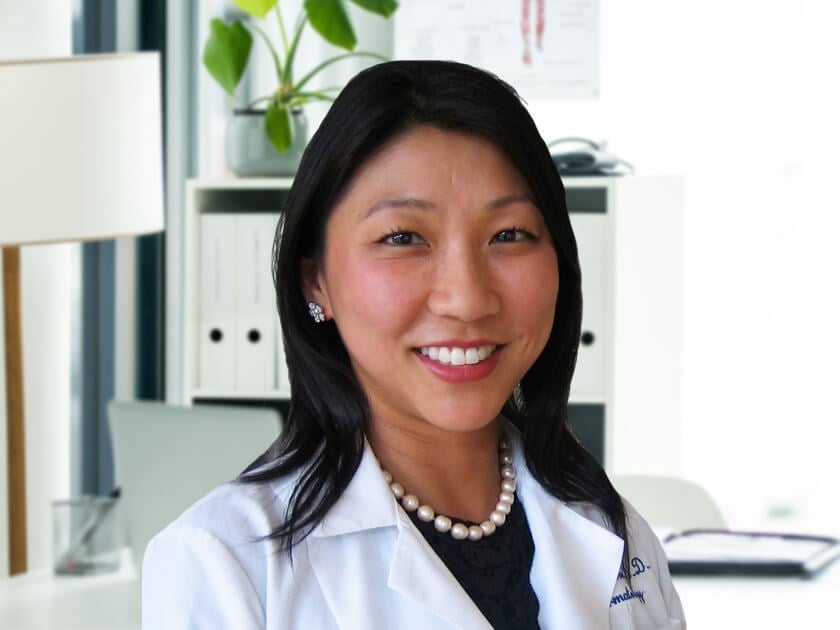 Dr. Jasmine Yun is a board-certified dermatologist who earned her undergraduate degree in biology with honors from UCLA. After earning her Bachelor of Science degree, she received a joint MD/MBA from the UCLA School of Medicine and the Anderson School of Management at UCLA. She also had the pleasure of serving as chief dermatology resident at MLK-Harbor and Harbor-UCLA. While completing her subspecialty dermatopathology fellowship at the Ackerman Academy of Dermatopathology in New York, she worked closely with Dr. A. Bernard Ackerman, a true pioneer in the field of microscopic diagnosis of skin cancer and disease. Dr. Yun serves as a Clinical Associate Professor of Dermatology at USC Keck School of Medicine where she has devoted much time educating resident physicians and also has spent time participating in medical missions in developing countries, such as Afghanistan and Mexico. Not only has she won multiple teaching awards, but she has published a variety of peer-reviewed articles and written chapters for dermatology textbooks with a focus on skin of color. When she is not working, Dr. Yun enjoys traveling with her husband, son, and twin daughters.
BOARD CERTIFICATIONS AND Societies
Dr. Yun is board certified by the:
American Board of Dermatology
American Board of Pathology
Dr. Yun is proud to be a member of the following societies:
American Society of Dermatopathology
Fellow In-Service Assessment Writing Committee for the American Society of Dermatopathology (Vice-Chair)
American Academy of Dermatology
Women's Dermatologic Society
Los Angeles Metropolitan Dermatological Society
Specialties and Expertise
Dr. Yun is proud to be skilled in all areas of dermatology, particularly in cosmetic procedures, like BOTOX®, fillers, and lasers, as well as in diagnosing (dermatopathology) and treating skin conditions in adults and children.
Reviews
"I wouldn't go to any other dermatologist. Dr. Yun is very thorough and I have complete faith in her. She is very professional, kind and friendly."
R.B.
ZocDoc
"Dr. Yun is an outstanding physician. She knows what she is doing; gives excellent professional advice. She is a warm, friendly and caring person. After using two other dermatologists in Orange County where I live, I highly recommend her as far superior, and would not go anywhere else."
M.W.
Google
"One of the best doctors I have ever worked with. If you are looking for any service and it is offered here, look no further."
A.K.
Yelp
"I came here for skin check! Charlotte the PA was great, very through exam and took care of my moles that concerned me! She had amazing bedside manners and and seemed very well experienced. NO wait time which is unheard of in a doctor's office! Definitely recommend."
A.G.
Yelp
"Even though this clinic didn't accept my dad's health insurance, we were willing to bring our dad to be taken care of Dr. Yun because of good reviews about her. My experience when visiting the clinic: The parking is very limited. It has been a couple times I visit this clinic and thankfully, I always find the parking spot. The receptionists are very helpful & friendly.First Impression on the first meeting with Dr. Yun: She is very pleasant to talk with & polite. Even though she's wearing a face mask, I can tell that she always smiles when she talks and listens. After examining my dad's skin, we agreed to do biopsy on the dark spot around forehead and his arm, plus cold/Cryotherapy. She surprised knowing that we would pay cash on the treatment. She seriously told us that she would not charge my father on doctor visit. I've never expected that she would be so generous to waive 100% fee on doctor visit. We paid cash to other doctors before, but none of them would care on how much we must spend out of the pocket. Dr Yun is totally different. It's not all about the money (even though money is important), but she is really care about her patients (we can tell from her patients' reviews). She is a nice doctor inside and out. I've never seen such a good doctor like that in my life. Even though she's knowledgeable, but she's not arrogant at all. She is patient & considerate. When we were about to leave, she gave us an Aquaphor sample (healing ointment just in case my dad need it). She also informed that she would call me once she received on the biopsy result. Dr. Yun kept her promise. She called me as soon as she received the biopsy result. I was surprised when receiving her phone call because I thought she would ask her assistant or receptionist to call me. I didn't expect that she would call me on the biopsy result and arranged the schedule for the 2nd visit. She impressed me again with her loyalty as a doctor! On the 2nd visit, my dad went through biopsy again on his arm & his back and cryotherapy. Dr. Yun only charged for a biopsy on my dad's arm for $250. She didn't charge my dad on the biopsy on his back, cryotherapy, and doctor visit. Before we left Dr. office, we got a 'goody bag' from Dr Yun: 4 different samples of sunscreens and an Aquaphor sample. Dr. Yun, we can never thank you enough. Oh, thanks also for spraying the cold stuff on my mom's neck. Bless your big and generous heart! It's worth it to find you even though I have to drive for about an hour. I strongly recommend visiting Dr. Yun on dermatology problems. If every doctor strives to be as caring and generous as her, the world would be filled with smiles and laughter instead of pain and sorrow. Sorry for the long review. I am so excited and never have enough talking about all of her kindness!"
F.M.
Yelp